1: Pola High-speed Cutting Machine (German Technology)
This is the most modern cutting machine with touching screen control and automatic assurance.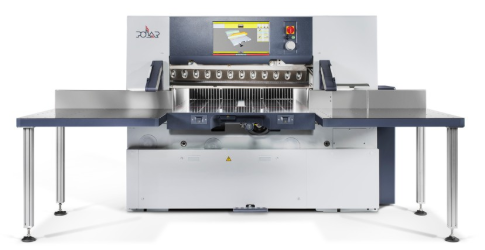 2:  Hot stamping & Diecutting Machine – Nikko from Japan
– ​​​​​​​This is high quality diecutting machine which including hot stamping system inside. This machine can produce every high-end product such as for Pharmaceutical cosmetics, cigarrette packaging,.. It can reach the average speed 7,500 paper/ hour diecutting, and 6,500 paper/ hour of hot stamping.
– ​​​​​​​It is able to heating diecut on PET, PVC materials, or hotstamping roughly on metalized material.
3: One Set Only Brausse Automatic Diecutting Machine
Technical information
Maximum paper size : 1060×760 mm
Minimum paper size : 400×350 mm
Maximum diecut size : 1060×745 mm
Maximum diecut speed : 8,000 paper/ hour
4: ​​​​​​​Embossing machine – from Taiwan
Technical information:
– Function: Auto embosse
– Maximum paper size:                  730 x 1030mm
– Maximum embossed area:            720 x 1020mm
– Maximum mold size:                    820 x 1040mm 
– Maximum embossed speed:          2,000 – 4,000 paper/ hour
– Paper thickness :                           0.08 – 0.6mm 
5: ​​​​​Auto folding machine Vera Lyra – Italian Technology
This is remote control system with Plasma auto control system.
The machine is able to glue boxes with logged bottom by digital glued system. Also it can glue paper upto size 1,020 x 800 mm, speed of 400 m/ min. Paper weight available around 200 to 750 g/ m2. Furthermore, this machine can diecut cardboard E, F, N waves.
6: ​​​​​​​Auto fold-glue machine Champion.
Folding speed: 150 product/ min
Function: This machine is order to produce high-end and saving environment shopping bag with auto system. It can control flexible sizes of products and different needs within this industry.
Glue system
The machine finishes products by combining glueing and folding process within the system.Glueing by heating system makes it more accurate and perfect apearance for items.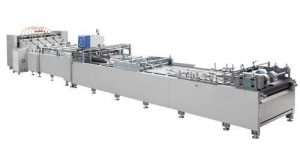 Fold system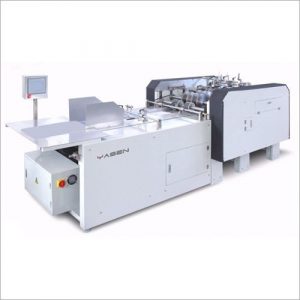 7: ​​​​​​​Folding Clamshell Box Machine – (for fastfood industry)